Here are some happy

Texas Bulldogges

families!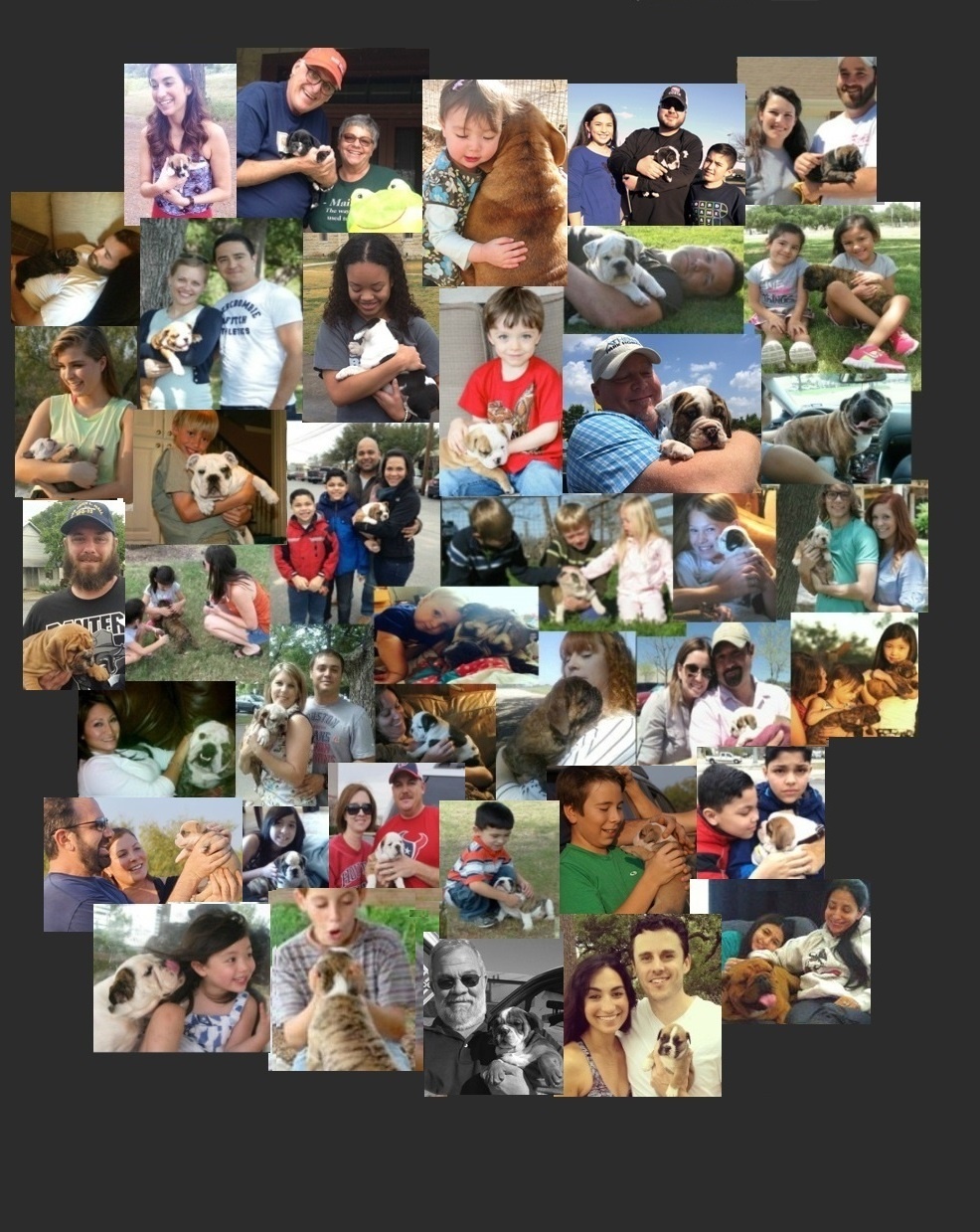 We are privileged to have helped so many people over the years find their perfect new addition to their family.
Here are some comments we have received over the years. Please enjoy!
"Our first weekend with Max was great! He is a very sweet and playful puppy and everyone in the family just loves him! Everyone who has seen Max comments on what a great looking puppy he is...he is really all that we were hoping for..."
"I just wanted to let you know how happy my family is with the dogge we received from you about 2 years ago....My 6 year old son is so in love with him and he looks forward to play with him everyday after school. I'll send you pics of our dogge so that you could see how perfect he is."
"She is soooo adorable! Love all the wrinkles! She is a chunk!!"
"I wanted to share an update of Bacon with you...he's 7 months old today. He's wonderful and we love him so, so much! He's smart, active, and such great company!"
"Just wanted to let ya'll know that she is doing great. She is so sweet and has instantly done great with potty training. Everyone that has seen her has wanted to steal her and take her home HA HA. I would like to send you pictures every six months so you can see how gorgeous she becomes. I want you guys to see your grandchild as she grows."
"He is an incredible dog, full of life...."
"She is so adorable and has been fun all day. Thank you, she is a great addition to the family."
"Bella is such a wonderful addition to our family. She has such a sweet, loving personality. We couldn't be happier. Thanks again for our precious baby."
"I just wanted to drop you a hello and let you know "Milo" is doing great. He is such a great puppy. He is so smart and has such a personality. The kids are so in love with him and Milo will be joining us in Las Vegas this weekend for baseball. Thanks again for everything."
"Just wanted to send you some new pictures of our baby! He is getting so big and is very snuggly! I don't know what we are going to do when he is 60 pounds and still wants us to hold him while he sleeps! HAHA!"
"Rocco is so handsome. His colors are beautiful...he is a star at the dog park. Everyone loves him and he loves all the attention. I refer anyone interested in bulldogges to you at your website."